Welcome to 103.7 The Buzz's 18th Annual Buzz B-Q!

THE 18TH ANNUAL BUZZ B-Q, hosted by KABZ 103.7 The Buzz and presented by Doublebee's is May 7th, 11a - 6p at the Downtown Riverside RV Park in North Little Rock.
Buzz B-Q has become THE premier BBQ event in Central Arkansas with the featured BBQ contest including Pro-Joes and Average Joes. In 2021 Buzz B-Q hosted 76 teams and over 2,000 turned out to sample and vote on the best BBQ in the area! This year a GRAND CHAMPION will be crowned in each division to see who is really King (or Queen) of the BBQ! Be sure to join in the fun!

Team registration is open. Click HERE to register your team
Would you like to be a judge? Click HERE.
Tickets are on sale now at select Doublebee's locations. Click here for a list of ticket locations.
PEOPLE'S CHOICE VOTING
For 17 years we have been searching and awarding the Best Barbeque in Central Arkansas. This year is no different as we celebrate our 18th Anniversary! As you walk around BuzzBQ teams will have signs notating "Samples Here" and you will be able to taste various types of meat prepared by our grill masters. When you sample the barbeque you will help decide the winner for People's Choice. Your ticket acts as your vote - when you find your favorite meat prepared by your favorite grill master turn over your ticket and fill in the number of the team. The number of the team is displayed in bold red numbers at the team spot. Drop your ticket at either the front gate on your way out or at the beer tent inside The Sports Zone area. Be sure to get your entry in by 4:00 pm then hang around to see if your favorite wins the trophy when all the winners are announced at approx. 6:00 pm.

Should you have any questions or would like to be added to our email list for updates regarding Buzz BQ, email us at buzzbq@1037thebuzz.com.
CLICK HERE TO READ THE OFFICIAL RULES!
VIEW EVENT PHOTOS ON FACEBOOK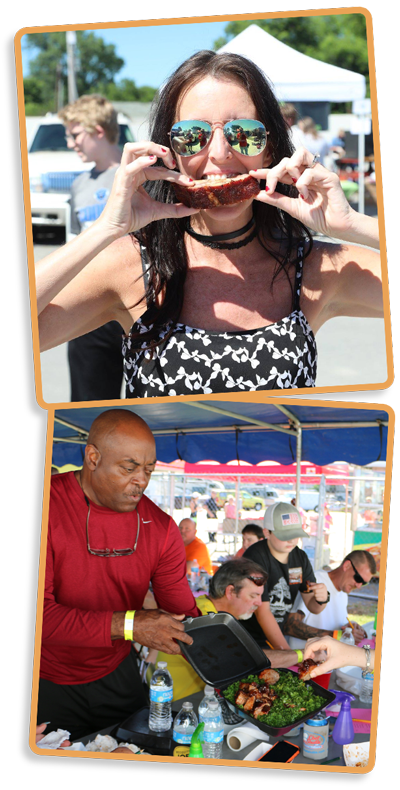 The ordinary AVERAGE JOE category is your "backyard style griller." He usually doesn't have a huge trailer or commercial gear. Don't get me wrong, he sure is proud of his BBQ! The Average Joe competition features prizes including trophies, prize packs, and bragging rights for the year!

The PRO JOE would bet his paycheck that he has the best BBQ in Town! He has his buddies to prove it! According to his buddies, he should be opening his own restaurant. The PRO catagory features trophies as well as cash prizes!

Each division features a Grand Champion title that's up for grabs! The competition is fierce, but if you and your team are up to the challenge, then come out and show us what you got!
TEAM REGISTRATION OPEN NOW